The PlayStation 5 has been out for a little over a year now and as the new generation progresses, we wave goodbye to the previous generations. The PlayStation is becoming more of a platform for story-driven single player experiences (God of War, The Last of Us, Uncharted) but this wasn't always the case; the PlayStation family of consoles has featured some hard-hitting FPS games, some exclusive and some cross-platform. In honor of the previous generations, let's reflect on some of the best PlayStation FPS games!
Resistance: Fall of Man (PS3)
Developed by Insomniac Games and released in 2006 alongside the launch of Sony's PlayStation 3, Resistance: Fall of Man was favorably received by PlayStation fans and to this day is considered one of the best PlayStation FPS games. Set in an alternate timeline in the 1950's, Resistance tells the story of Army sergeant Nathan Hale as the Earth is invaded by an alien force called the "Chimera". Resistance showed off the powerful hardware of the PS3, featuring stunning graphics and fluid gameplay as well as a lucrative multiplayer mode. It should come as no surprise that Resistance was received with considerable praise from gaming news outlets. Having gone on to become the first PlayStation 3 title to sell over a million copies, Resistance more than earns its spot in history as one of the best PlayStation FPS games!
Killzone 2 (PS3)
Notice a trend yet? The PlayStation 3 was a great platform which boasted some of the best PlayStation FPS games and included in that category is Killzone 2. Touted as a so-called "Halo-killer", the Killzone series was developed by Guerrilla games exclusively for the PlayStation. Killzone 2 made its mark on the franchise and PlayStation owners, with a stellar campaign and multiplayer. Players were faced with a story which touched on more controversial topics such as fascism and the consequences of war. Complementing the campaign was Killzone 2's multiplayer, which featured large-scale matches of up to 32 players and unique player classes for any type of play style. Killzone 2 was and still is considered the best entry in the Killzone series, and just like Resistance, is one of the best PlayStation FPS games!
Destiny (PS4)
Following the development and release of four Halo games, Bungie departed from their beloved franchise and moved on to a new game, Destiny, which released on both Xbox and PlayStation consoles. Destiny, although in some ways similar to the Halo franchise, was and still is one of Halo's top competitors. Bungie put their story writing skills to the test in Destiny, weaving an epic tale of humanity's fight against alien forces (we did say that this game was similar to Halo). Alongside the campaign, Destiny sported a competitive multiplayer mode called the "Crucible", in which players would face off against other players in casual modes as well as ranked modes for those seeking a more difficult yet rewarding climb to the top. It should come as no surprise that any title developed by a studio such as Bungie should be called a great game, and Destiny certainly earns its place amongst the best PlayStation FPS games!
Doom Eternal (PS4)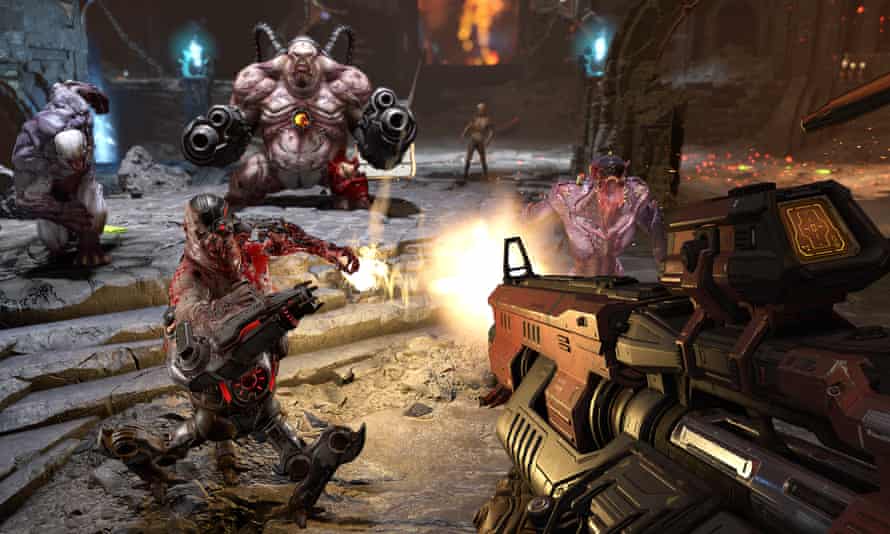 When you think of the best PlayStation FPS games, your mind should absolutely jump to Doom Eternal; I mean, what can be better than slaying demons while jamming out to some heavy metal tracks? Doom Eternal gives the player the ultimate Doom experience as they fend off a demon invasion of Earth. With stunning graphics and epic backdrops accompanied by fast-paced gameplay supported by a soundtrack which is sure to get the heart pumping, Doom Eternal masterfully blends memorable gameplay with a compelling story. Doom Eternal is not for the faint of heart, however; the difficulty ramps up as the player progresses, with even more difficult side challenges sprinkled throughout the game. Nevertheless, most gamers would agree that Doom Eternal is one of the best PlayStation FPS games!
Bioshock (PS3)
Bioshock (Xbox/PlayStation) was a refreshing game in the FPS genre; a horror/action type of game set in a dystopian-like underwater city called "Rapture". The player controls the main character, Jack, who crash lands in the ocean and finds himself at the entrance to Rapture. Upon entering, Jack finds Rapture shortly after the society had collapsed due to civil war. Jack is then tasked by a man named Atlas with finding and killing "Little Sisters", young girls who have been genetically altered and forced to extract a substance called "ADAM", which allows for the genetic alteration of one's body. The Little Sisters were accompanied by "Big Daddies", who players may remember as the terrifying armor-clad protectors of the Little Sisters. Bioshock's story was filled to the brim with intriguing concepts and gameplay; players not only had access to weapons, they also could obtain unique powers to aid them in battle. As unique a game Bioshock was, it was an iconic story remembered by many gamers and is still considered one of the best PlayStation FPS games!
Borderlands (PS3)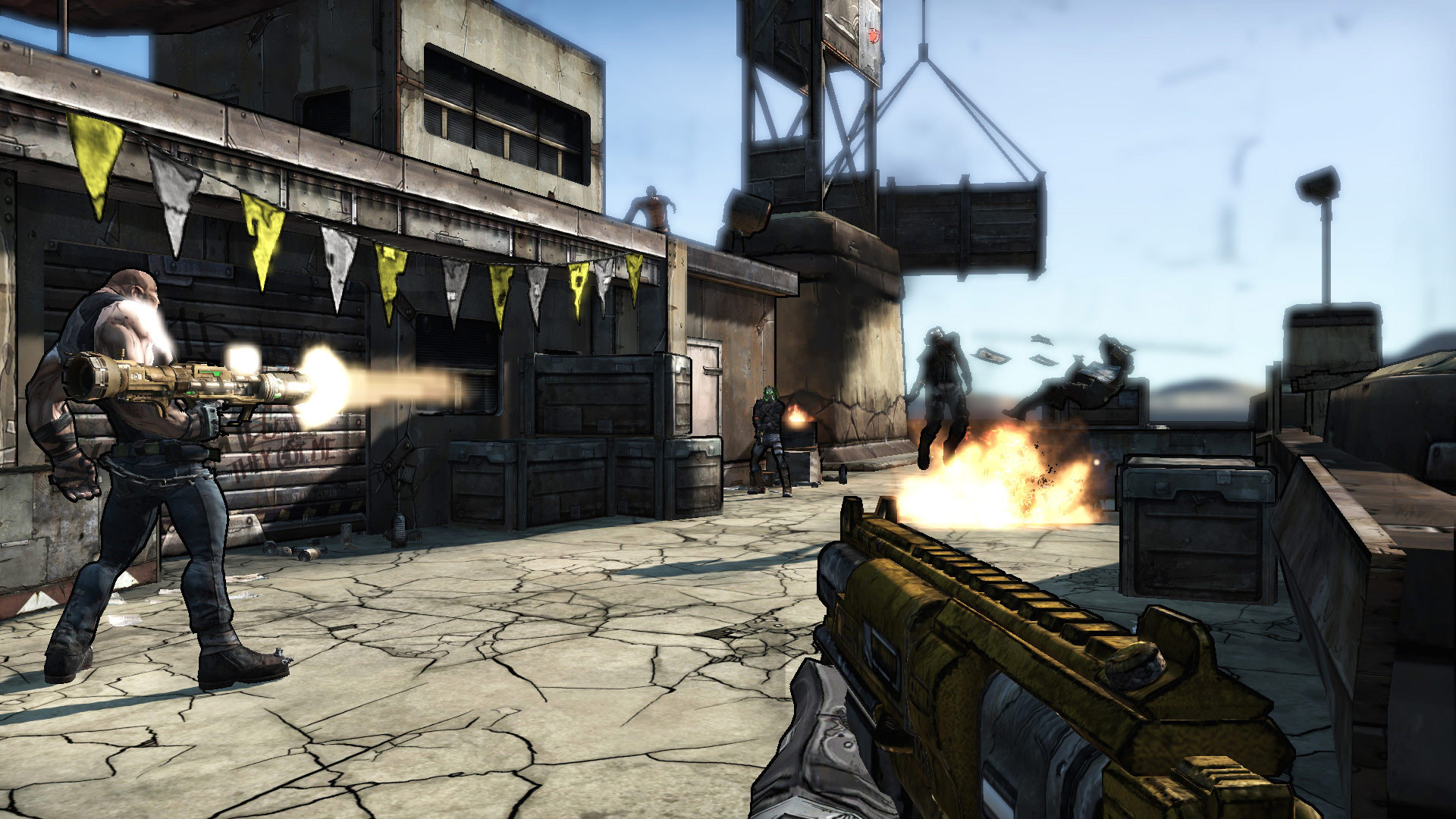 Perhaps one of the most popular sci-fi action FPS games to date, Borderlands made its debut in 2009 on both Xbox and PlayStation consoles. Known for its unique graphics and art style combined with memorable characters such as ClapTrap, Borderlands is loved by many FPS fans. Players could spend vast amounts of time playing through both story missions as well as side missions, each rewarding the player with currency or weapons. Borderlands also featured a multiplayer experience with both cooperative modes and player-versus-player modes; a player could either initiate a battle by performing a melee on another player, or by traveling to an arena, where players could face off in free for all or team-based battles. Perhaps the most exciting aspect of Borderlands (besides its missions and gameplay) was the randomization of weapons; with millions upon millions of different kinds of combinations, players could find themselves with all sorts of wacky weapon types to use on their enemies! Borderlands was the result of some very creative genius and should absolutely be considered one of the best PlayStation FPS games!
Apex Legends (PS4)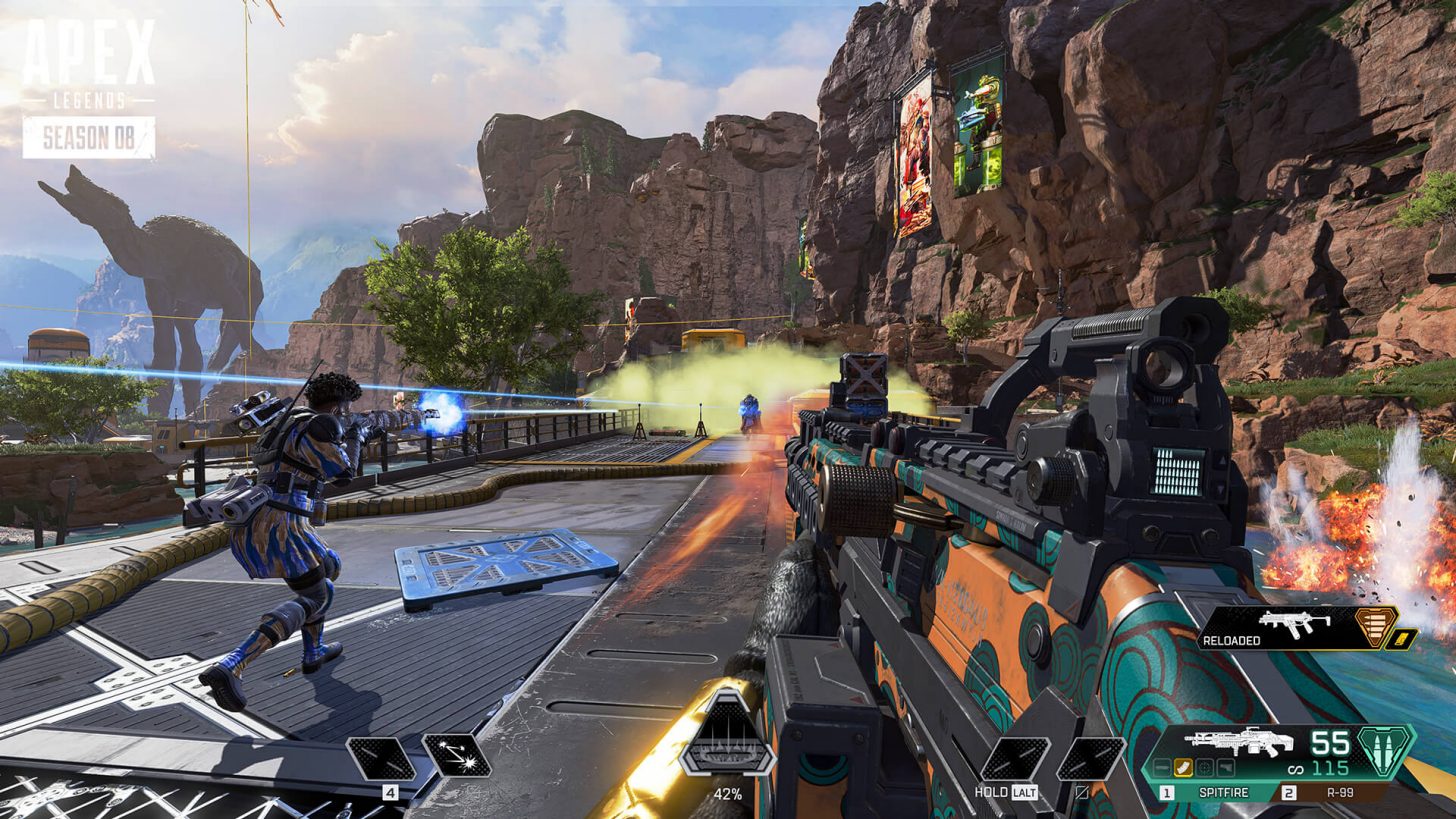 For those that just can't seem to get the building aspect of Fortnite down, Apex Legends is available (and free to play) for those that still want that "battle royale" experience. Although Apex features smaller game lobbies of 60 players as opposed to 100, the same basic elements of battle royales still apply; you are flown over the map and can drop to whichever area you and your team decide on, and then gather whatever weapons, armor, and other items you can find before heading off to fight other players in hopes of becoming the champions. Apex has multiple playable characters, each with their own unique abilities such as airstrikes or healing abilities which are tailored to different kinds of playstyles. As a result of the smaller game lobbies, matches in Apex are generally shorter than your average battle royale and can be much more exciting as the circle shrinks and players are forced to fight each other sooner than expected! While the game itself is free, there are in-game purchases that can be made but do not have an impact on gameplay. If you're looking for one of the best PlayStation FPS games that gives you that classic battle royale experience, look no further than Apex Legends!
Battlefield 1 (PS4)
Finally, there is Battlefield 1. DICE's fifteenth installment in the Battlefield franchise, Battlefield 1 is set during World War 1 and showcases some truly incredible graphics and gameplay. The game opens in an epic fashion with a battle during which the player controls several different soldiers, all of whom inevitably are killed. Battlefield 1's campaign features multiple playable characters, all in different parts of the war and fighting in different militaries. Just like other Battlefield titles, Battlefield 1 also features an incredible multiplayer mode, complete with large-scale battles like Conquest, which can have up to 64 players in the lobby. Some previous game modes make a return, such as team death match and domination. Players have the option to create different classes to use in multiplayer which can be tailored to their own playstyle, enabling players to have a more comfortable experience in online play. There are few FPS games available that can match the thrilling multiplayer gameplay Battlefield 1 provides, and this game most assuredly earns the right to be called one of the best PlayStation FPS games!